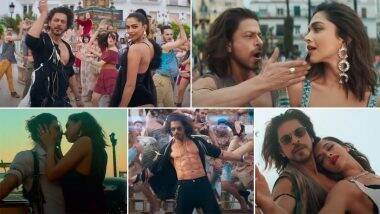 Pathan's new song (Photo Credits: Youtube)
Mumbai, January 10: Amid reports that the Central Board of Film Certification (CBFC) has asked the makers of Shah Rukh Khan-starrer 'Pathan' to alter the sequence of the song 'Besharam Rang' in the film, lyricist-writer Javed Akhtar says Filmmakers need to "trust" the film certification body, which has the authority to decide what will be the final form of the film. Akhtar has given this statement a day before the release of the trailer of the film 'Pathan' directed by Siddharth Anand. Referring to the Central Board of Film Certification (CBFC) as a "department" under the central government, Akhtar (77) on Monday said, "I cannot decide whether the song is right or wrong. For this we have an agency. There are some people in the government and society who watch the film and decide what should be shown and what should not be shown.
Akhtar said, "I think we should trust the certificate they give to the film, the deleted scenes and the final decision." According to reports, the CBFC has given the song to the film production company Yash Raj Films. It has been suggested to change 'Besharam Rang' and remove all references to the Indian intelligence agency 'RAW' and the Prime Minister's Office from the film. The film 'Pathan' is going to release on January 25. The film has been mired in controversy ever since many people expressed their displeasure over actress Deepika Padukone wearing saffron-coloured clothes in the song 'Besharam Rang' and alleged that it hurt religious sentiments. Activists of Vishwa Hindu Parishad and Bajrang Dal created ruckus in a mall located in Vastrapur area of ​​Ahmedabad last week and tore the posters of the film 'Pathan'. Responding to a question on such protests by some anti-social elements against the film, Akhtar said that it was not the anti-social elements but the politicians who raised questions on the song. He said, "There are no anti-social elements, the minister is talking like this. Forget about antisocial elements. The Home Minister of Madhya Pradesh has said this. Also read: Poonam Dubey and Arvind Akela Kallu's tremendous Bhojpuri song 'Shri Ram Bhajo' released, watch this interesting music video
Madhya Pradesh Home Minister Narottam Mishra had last month termed Deepika Padukone's scene in the song as objectionable and said the government would consider whether to allow the screening of the film. The Madhya Pradesh Ulema Board also demanded a ban on the film for "misrepresenting Islam". Akhtar said, "If he (the minister) thinks that there should be a separate censor board for Madhya Pradesh, then he should watch the film separately. If they are unhappy with the Centre's film certification, then we should not speak on it. It is a matter between them and the Centre." When asked about the recently constituted 'Religion Censor Board', the author said that every religion should have its own censor board.
i cant decide whether the song is wrong or right says javed akhtar on besharam rang controversy