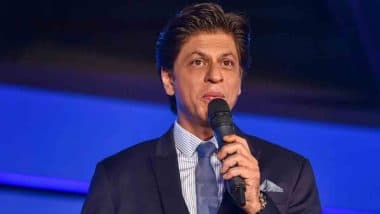 Shahrukh Khan (Photo Credits Instagram)
Mumbai, January 18: Shah Rukh Khan may be known as the 'King of Romance' in Bollywood, but the actor says when he first entered the Hindi film industry 32 years ago, he wanted to be an action hero. Pathaan Advance Booking: Advance booking of Shah Rukh Khan and Deepika Padukone starrer 'Pathan' will start from January 20, 5 days before the release
That's why the actor has played the role of a detective in his upcoming film 'Pathan', and it is a dream come true for him. He said, "I came to the film industry 32 years ago to be an action hero, but I missed it because they made me a romantic hero instead. I just wanted to be an action hero. ,
In an interview shared on YouTube by Yash Raj Films, the actor said, "I mean I love 'Dilwale Dulhania Le Jayenge', and I love Rahul and Raj and all these good boys (characters in the film)". , But I always felt that I am an action hero, so it is like a dream come true for me.
After the disappointing performance of Bollywood in the year 2022, 'Pathan' directed by Siddharth Anand is the first big Bollywood film to be released in the year 2023. Earlier, Shah Rukh Khan also played the lead role in Siddharth Anand's film Zero. Apart from Shah Rukh Khan, Deepika Padukone, John Abraham, Dimple Kapadia and Ashutosh Rana will also be seen in the film Pathan.
The actor described the film 'Pathan' as close to his heart like all his films. He said, "It's been a long time since I have entertained people with a good film and I hope this will be one of them." It is an action film, it is close to my heart. All films are close to heart….I hope people like it.
He said that this is such a film that you would like to watch on the big screen and after watching it two-three times on the big screen, you can watch it on OTT. Appreciating John Abraham, who is playing the villain in the film, he said, "I have known John since I came to Mumbai. He is one of my first friends. They were acquaintances who later turned into friends. I have known him for years, he is very shy, quiet and reclusive. I have met him.
'Pathan' will release on January 25, 2023 in Hindi, Tamil and Telugu. The film is a part of filmmaker Aditya Chopra's ambitious espionage saga which also includes Salman Khan-Katrina Kaif starrer 'Ek Tha Tiger' and 'Tiger Zinda Hai' as well as Hrithik Roshan's 'War'. The third film of 'Tiger' franchise is going to come in December. Salman Khan will also be seen in a special role in 'Pathan'.
(This is an unedited and auto-generated story from a syndicated news feed, likely not the latest staff changes or edits)
at the start of my career 32 years ago i wanted to be an action hero shah rukh khanr