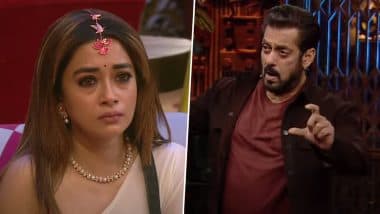 BIGG BOSS (Photo Credits: Instagram)
Mumbai, January 21: In the upcoming weekend episode of 'Bigg Boss 16', Bollywood superstar Salman Khan along with co-contestant Priyanka Chaudhary will be seen scolding Tina for talking ill about Shaleen Bhanot. Tina recently shared some things about Shaleen with Priyanka.
In the promo, Salman said- 'Shaleen had made a cheap demand before entering the house. You kept all this in your heart for 15 weeks when things were fine with Shaleen, now you are telling all this because things are not fine with her?' Also read: Elnaaz Norouzi wearing a blue swimsuit posed in the swimming pool of Goa, pictures of the actress raised the temperature of social media (View Pics)
Tina started crying on this and said: It was not like that sir. Salman said, have you kept any more limits, have you kept any limits? Due to Salman's reprimand, Tina starts crying and says, I am tired, I want to go home sir. Everything is being blamed on me.
bigg boss 16 salman reprimands tina for revealing shaleen bhanot's secret