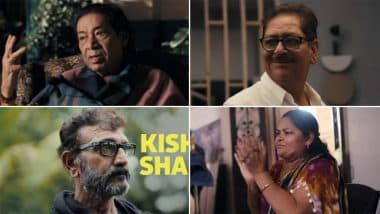 Prime Video (Photo Credits: Youtube)
Cinema Marte Dum Tak Trailer: Prime Video, today announced the global premiere of its unscripted Amazon Original Series, Cinema Marte Dum Tak, with the launch of its trailer. The jaw-dropping trailer of the series takes the viewers back to the era of 90s, giving them a glimpse into the adorable, happy and unseen behind-the-scenes world of Hindi pulp cinema.
'Cinema Marte Dum Tak' is a collaboration between four very passionate film directors of that era – J.J. Neelam takes the audience behind the scenes with Vinod Talwar, Dilip Gulati and Kishan Shah, who come together for the first time to make a film using a budget and theme comparable to the films of 30 years ago Huh. Watch Trailer:
The docu-series will also feature actors like Raza Murad, Mukesh Rishi, Harish Patel and Rakhi Sawant, who will share their views on lesser-known aspects of Indian cinema. In its last episode, actor Arjun Kapoor will also appear as a host.
amazon prime video releases cinema marte dum tak trailer premier on january 20