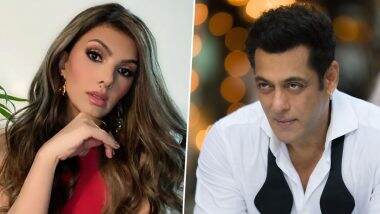 Somi Ali on Salman Khan (Photo Credits: Instagram)
Mumbai, January 7: Salman Khan's ex-girlfriend Somi Ali has once again made serious allegations against him and said that the eight years spent with him were the worst years for him. Somi opened up about her relationship with Salman on Instagram and said that the superstar used to constantly insult her by calling her ugly, stupid and dumb. Somi said, there are times when you posted and then deleted the post, can you please share the reason behind it? Yes, because I used profanity. As the Executive Director of an NGO, posting profanity on my social media has not gone down well with me. That's why I removed them.
The former actress said, eight years spent with him were the worst years of my life. Apart from taunts and teasing, he used to constantly insult me ​​by calling me ugly, stupid and dumb. Not even a day went by when he did not do this. I felt worthless and small. He didn't reveal his relationship with me for years and when he finally did, he insulted me in front of his friends, scolded me in front of everyone. Unfortunately, I was unaware that these people were just using me and I was imagining the future. After beating me, Salman told me that I am a man and only men can cheat, not women. Also read: Naval Mali Passes Away: Singer Naval Mali passed away, gained popularity with the song 'Sali Number One'
She said, I was shocked by that statement and the sexism that came out of it. We should not forget that if Salman or someone else is good for you, then they are the same with others. This was the worst I had in terms of verbal, sexual and physical abuse. Somi was last seen on the silver screen in 1997 in 'Chup'. In the 1990s, there was a lot of discussion about Somi and Salman's relationship.
ex gf somi ali on salman khan 8 years with salman were worst somi ali