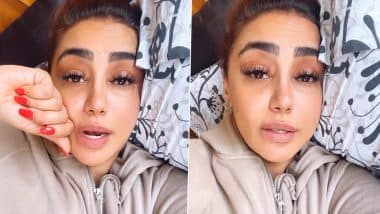 Mehak Chahal (Photo Credits: Instagram)
Mahek Chahal Health Update: In the first week of January, 'Naagin 6' actress Mehak Chahal has returned home after ill health. The actress shared a note regarding this. The actress explained in detail about lung infection and pneumonia due to cough and cold.
Mehak told IANS, "I was traveling a lot basically in December. I had gone to America and I was having mild cold and cough. I took it normally and then after coming back, I went to Delhi And in spite of having cold and cough, I continued traveling, went to Jaipur and then went back to Mumbai. I started shooting for my show 'Naagin'. I was taking hot water and Vitamin C which we usually take But never realized the seriousness of my deteriorating health."
In fact, he also shared a video on his Instagram handle in which he talked about his health and told that cough and cold should never be taken lightly. Watch video:
The actress further said, "In January I started having pain in my chest, although usually in such a situation you feel pain in your throat, but I felt pain in my chest. My oxygen level went very low and all the symptoms Very similar to Covid. I collapsed and was taken to the hospital where the doctor immediately asked me to undergo a CT scan."
"Then the doctor told me to stay right because my health became very bad. I could not even breathe properly, so I was in the hospital for more than a week. After nine or ten days I I am back, my mother is taking care of me and I will take time to recover."
The actress emerged as the winner of 'Bigg Boss 5' and also participated in the action-based reality show 'Khatron Ke Khiladi 11'. Apart from this, she has also appeared in many shows.
naagin 6 fame mehak chahal reached home from the hospital said do not take cold too lightly watch video