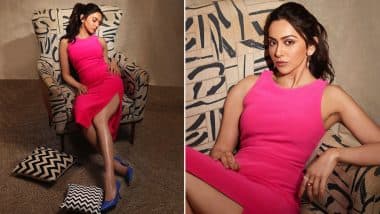 Rakul Preet Singh (Photo Credits: Instagram)
Rakul Preet Singh spoke openly on sex education: Actress Rakul Preet Singh, who is gearing up for her upcoming streaming film 'Chhatriwali', talks about her experience with sex education in school. This film is about sex education. Regarding this, the actress said that it is a family drama and it can be watched with parents as well.
The actress said, 'Chhatriwali' is a family film, a film that I can watch with my family or parents or my father sitting next to me because not a single dialogue in the film is like that or has a double meaning. Is. Everything is a matter of fact and it is the need of the hour. This is the story of a girl and how she understands the importance of safe sex and why she takes it upon herself to speak about it freely and openly.
Talking about this, the actress said, "When I was in class 9th and 10th and whenever there were sex education classes, as teenagers, we used to laugh and blush about the subject and find excuses to bunk these classes. were. The actress believes that there will be a change in the attitude of people watching the film.
Produced by Ronnie Screwvala and directed by Tejas Prabha Vijay Deoskar, 'Chhatriwali' stars Rakul Preet Singh and Sumeet Vyas. It will be released on G5 on January 20.
rakul preet singh says we used to laugh and blush in sex education class