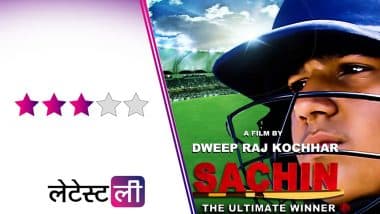 Sachin the ultimate winner (Photo Credits: File Photo)
Sachin The Ultimate Winner Movie Review: Film: Sachin The Ultimate Winner
cast : Ved Thapar, Dweepraj Kochhar, Shivani Sharma, Mukul Chiru, Dhruv Raj
the director: Dweepraj Kochhar
runtime: 1 hour 40 minutes
story: This story is about a school student named Sachin who considers master blaster cricketer Sachin Tendulkar as his idol. But an accident paralyzes him, which ruins all his dreams and hopes. This story moves forward with whether this boy's life stops here or whether he accepts this formidable challenge and moves towards his destination.
acting: Mukul Chiru, the lead actor of the film, has played the role of a boy full of simplicity and talent. The characters of Ved Thapar, Dweepraj Kochhar and Shivani Sharma are very important in the film and at the same time they are seen impressing us with their performance. While Ved impressed us in the role of Sachin's coach, she gave a strong performance as a single mother here.
Final Take: The story of this film gives an important message to the youth to move forward in life and not to give up in spite of a million difficulties. This story is full of inspiration and enthusiasm which should be seen by youth. Although its screenplay could have been made even stronger. Overall, the makers of the film have tried to convey this message to today's young generation through entertainment that they should be ready to fulfill their ambitions.
sachin the ultimate winner movie review ved thapar dweepraj kocchar inspiring story filled with emotions and perseverance