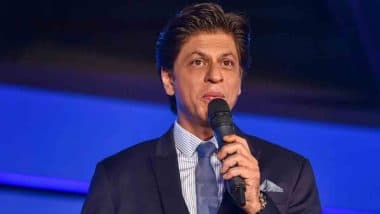 Shahrukh Khan (Photo Credits Instagram)
Pathan: Shah Rukh Khan returns to the cinema halls with Pathan after a long gap of four years and reveals that he is fulfilling his 32-year dream of being an out and out action hero on the big screen. Huh. Pathaan: Trailer of 'Pathan' lit up on Burj Khalifa, Shah Rukh Khan-Deepika Padukone's fans congratulated
In a video released by filmmaker Yash Raj Films (YRF), Shah Rukh says, "I came to the film industry 32 years ago to be an action hero, but I could not because they made me a romantic hero. I just wanted to be an action hero. I mean I love DDLJ and I love Rahul, Raj and all those good boys, but I always thought I am an action hero, so it's a dream come true for me.
About his character in the film Pathan, the superstar says, "Pathan is a simple guy, does a lot of tough stuff and I think he's mischievous, he's tough but he doesn't show it off. He's dependable He is honest and I think he totally looks at India as his mother."
Shah Rukh Haseen is working with Deepika Padukone in Pathan. Deepika and Shah Rukh are one of the greatest on-screen pairings in the history of Indian cinema, having given Shahkar blockbusters Om Shanti Om, Chennai Express and Happy New Year.
Pathan is part of Aditya Chopra's ambitious Spy Universe and stars the country's biggest superstars Shah Rukh Khan, Deepika Padukone and John Abraham. YRF's adrenaline pumping film, Pathan, is all set to release on January 25, 2023 in Hindi, Tamil and Telugu. Shah Rukh Khan called his fan to the hotel room at 2 o'clock in the night, the fan kissed King Khan, pictures went viral (See Pics)
shah rukh khan always wanted to do action films but had to become a romantic hero now pathan has fulfilled his dream watch video