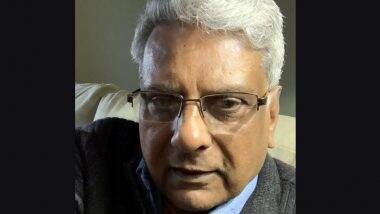 Sujan Dasgupta (Photo Credits: Instagram)
Eken Babu Writer Sujan Dasgupta Found Dead In His Flat: Sujan Dasgupta, the creator of the popular Bengali detective OTT series character 'Ekendra Sen' aka 'Eken Babu', died at his residence here on Wednesday. He was 80 years old. According to the police, his body was recovered from his residence in a housing complex adjacent to the Eastern Metropolitan Bypass on Wednesday morning. Police sources said that Dasgupta was living alone as his wife had gone to Shantiniketan.
On Wednesday morning, the domestic help working at his residence did not get any response even after repeatedly ringing the bell and banging on the door. The domestic help then informed her neighbours, who informed the local Survey Park police station.
When the police came and broke open the door, Sujan Dasgupta was found dead in the bedroom. His body has been sent for postmortem. Police sources said that there is every possibility that there is nothing unusual in his death due to his old age.
A local police officer said, "But looking at the circumstances in which the body was recovered, we had to send it for postmortem as per rules." It is learned that Dasgupta, who has been living in America for the last 50 years, had recently come to Kolkata with his wife.
Actor Anirban Chakraborty, who played the role of 'Aiken Babu' in the popular detective series, was shocked to know about the demise of his character's creator. Chakraborty said, "I cannot believe that Sujan Babu is no more. I spoke to him on the phone a few days back. He was in the city to participate in the Kolkata Book Fair. 'Aken Babu' series to be launched soon." A new edition was to be launched. He also invited me to visit his home on 24 January."
producer of popular detective ott aeken babu passes away at 80 in kolkata