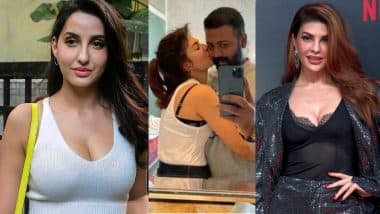 (Photo Credit: Twitter)
New Delhi: Every day something new is happening about the jailed thug Sukesh Chandrasekhar. Now Sukesh has written a letter from jail, in which he has spoken openly about the ongoing dispute between Jacqueline Fernandez and Nora Fatehi. Thugs have claimed that Bollywood actress Nora Fatehi's entire statement taken by Delhi Police's Economic Offenses Wing (EOW) has been changed, new stories have been created by them, and compared with the Enforcement Directorate. (ED) can be done from the charge sheet.
Nora was always jealous of Bollywood actor Jacqueline Fernandez, and was always brainwashing me against her as she wanted me to leave Jacqueline and her Let's date More than 300 ex-judges-bureaucrats furious over BBC documentary, vented their anger by writing letters
In the letter she said- ..Nora used to try to call me at least 10 times a day, and even if I didn't answer her calls she kept on calling me..Nora claims she doesn't have a car Wanted, or she didn't take it for herself, this is a big lie, she was after my life that her car is very cheap. Then the new car was selected.
Sukesh claimed – ED has screenshots of its chat, so there is no lie in it. I wanted to give him a Range Rover, but the car was out of stock. She wanted it urgently, I gave her a BMW S Series, which she used for a long time.
Thug said in the letter shared through his lawyers- .. Since she was not an Indian resident, she asked me to register it (car) in the name of her best friend's husband Bobby. There has never been any professional transaction between me and Nora as she is claiming, except once when she attended an event organized by my foundation, for which her agency was officially paid.
Sukesh also claimed that he and Jacqueline were in a relationship and that his association with Bollywood celebrities Nikki Tamboli and Chahatt Khanna was only professional as she was supposed to work with them under the LS Films banner. She said that the new statements given by her (actresses) before the EOW are 'fabricated' and she only wants to save herself and gain publicity.
sukesh chandrashekhar letter viral thug sukeshs new claim nora was brainwashing me against jacqueline