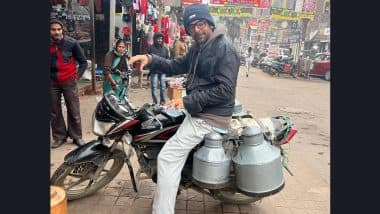 Sunil Grover (Photo Credits: Instagram)
Sunil Grover Instagram Funny Post: Actor and comedian Sunil Grover is very active on social media these days, he keeps entertaining the users with his funny posts. After seeing the post posted by Sunil recently, you will be in splits. Sunil Grover has become a milkman in this picture. Sunil Grover is roasting peanuts on the roadside, you are also offered to eat (Watch Video)
Sunil Grover is in a market and he is wearing cold clothes and riding a bike. Milk containers are tied on both sides of the bike. The actor wrote in the caption, make milk. Seeing this post of the comedian, there is no place for the users to be happy and they are making such comments that after reading it you are bound to burst into tears. see picture:
A user wrote on Sunil Grover's post – If you ask for milk, you will give kheer, if the milk bursts, you will give paneer. The other wrote – Brother, if there is a lot of fanfare, then give back the bike, we have to supply milk in future also. The third wrote – Grover Dukh Dawa. The fourth user wrote – Want 2 liters, bring it quickly. Such comments are continuously coming on the post of the actor.
Sunil Grover got the most fame from The Kapil Sharma Show. He played characters like Gutthi and famous Gulati in this show which made a place in the hearts of the people. Even today the audience remembers him in the show. Sunil was last seen in the film Good Bye alongside Amitbha Bachchan and Rashmika Mandanna. In this film, he played the role of a Pandit from Kashi.
sunil grover who became a milkman shared a picture users became buyers seeing the funny reaction you will be laughing view pics