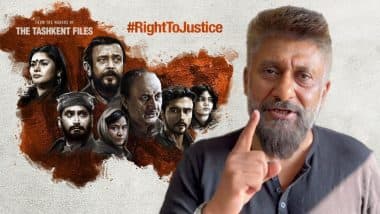 (Photo Credits: Twitter)
'The Kashmir Files' will be re-released on January 19: 'The Kashmir Files', the film that emerged as a surprise hit last year, is all set to re-release in theaters on January 19, the Kashmiri Hindu Exodus Day. The film's director Vivek Ranjan Agnihotri shared the news with his followers on his Twitter. He wrote: Announcement: The Kashmir Files is re-releasing on January 19- Kashmiri Hindu Genocide Day. This is the first time that a film is releasing twice in a year. In case you missed watching it on the big screen, book your tickets now.
The film, produced by Pallavi Joshi and Abhishek Agarwal in association with Zee Studios, earned over Rs 245 crore as per Box Office India. Talking about the re-release of the film, Vivek and Pallavi said in a joint statement: 'The Kashmir Files' has done what it should have done. It has already spread the truth about the Kashmiri Hindu Genocide. Tomorrow is The Kashmiri Hindu Genocide Day, and we are re-releasing the film on the big screen after receiving thousands of requests from those who missed it the first time, especially young Indians and women.
Only film ever in the history of cinema to release twice in a year. 'The Kashmir Files' to re-release in theaters on January 19 | Hindi Movie News – Times of India https://t.co/ZOPI3fdVwk

— Vivek Ranjan Agnihotri (@vivekagnihotri) January 18, 2023
The statement further said: If any of you haven't seen it, here is your chance to watch it again on the big screen with your family, friends and loved ones. This is indeed the beginning of a new chapter in Indian cinema. Jai Hind.
Meanwhile, Vivek Ranjan Agnihotri is gearing up for 'The Vaccine War'. The shooting of the much-anticipated film has already begun and the audience cannot contain their excitement to know more about the project.
vivek agnihotris the kashmir files will be re released on january 19 on kashmiri hindum genocide day the film did a business of 245 crores