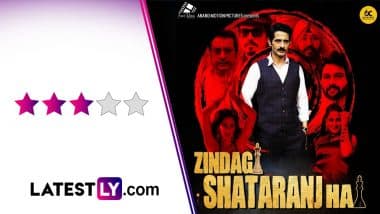 Zindagi Shatranj Hai Movie Review (Photo Credits: Instgaram)
Film: life is chess
cast: Hiten Tejwani, Bruna Abdullah and Hemant Pandey
producer: Anand Prakash, Mrinalini Singh, Faheem R Qureshi
Director: Dushyant Pratap Singh
Music Director: Anjan Bhattacharya, Indrani Bhattacharya
runtime: 1 hour 25 minutes
story: The film starts with Daler Mehndi's mesmerizing song 'Gadbad Gaddal', then something very unexpected happens in Vishal Malhotra's life. Kavita's husband Vishal goes out for a few days. Meanwhile, an unknown person at Kavita's house introduces himself as Vishal Malhotra, Kavita's husband. Kavita refuses to accept him as her husband, she calls the police. Domestic servant Vasu (Hemant Pandey) also believes this new person to be Vishal Malhotra. Kavita is able to prove that the unknown person who came to her house is not Vishal Malhotra. When the police get the proof, the police go back to the servant Vasu (Hemant Pandey). Kavita's doctor also considers the unknown person to be Vishal Malhotra, after all, why everyone has joined the unknown in this conspiracy against Kavita. The pieces of this chessboard are very clever and sharp. The film takes a different turn, will Kavita get Vishal's husband? Will the truth of the unknown person be known? Do you have to watch the movie for this?
acting: Actor Hiten Tejwani is a very experienced and seasoned actor, who is seen in the role of first disguised Vishal Malhotra and then as an officer Siddharth, impressing the audience with his acting from beginning to end. Pankaj Beri in the role of Dr. Shah Jamte Hemant Pandey in the role of Vasu plays both the comedy and suspense side very easily in the film Two songs in the film respectively Daler Mehndi's guest appearance in Ghadal Gadbad and Bruna in Badnaam Na Kar Dena Loved Abdullah's performance, Daler Mehndi is seen performing on a film song after a long time.
Final Take: Director Dushyant Pratap Singh presents the story of the film with tremendous suspense and thrill. At one point it seems that Kavita is really unable to recognize her husband due to her illness, but after a short gap in the film Such incidents keep happening which shows that everything is not as it seems. All the characters of the film seem to be part of a conspiracy, this is the beauty of this story because when the truth behind all these incidents comes to the fore, it is the most shocking. The directors manage to show suspense and thrill on screen with a neat presentation.
zindagi shatranj hai movie review hiten tejwani movie is filled with suspense and thrill