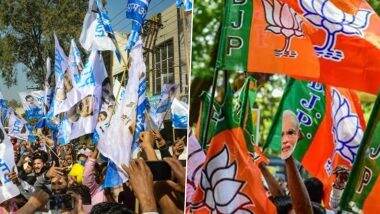 Aam Aadmi Party and BJP (Photo Credits PTI)
New Delhi, January 14: Aam Aadmi Party (AAP) workers protested outside the Delhi Pradesh BJP office on Saturday against the order to demolish slums located near Dhaula Kuan. A few days back, the Delhi government had directed its Public Works Department (PWD) to immediately withdraw the order to demolish the slums near Dhaula Kuan.
The PWD had issued a notice on December 29 asking the slum dwellers of the Dhaula Kuan area to vacate the land within 15 days. AAP MLA Somnath Bharti said that his party will not let anyone's house be demolished. He alleged, "What is the problem with the BJP? Why are they working against the people of Delhi. Also read: On the statement of 'broker', the Karnataka minister told the BJP MLA – I will get your tongue cut off
AAP leader Adil Ahmed said, "The BJP had said in its election manifesto that all slum dwellers would be given houses where there is a slum, but now they are sending notices to demolish the slums. In its notice, the Delhi government had directed the PWD to withdraw the demolition order, saying it was "inhuman" to do so without making alternative arrangements for the residents in the bitter cold.
aap workers protest outside bjp office against slum demolition orderr