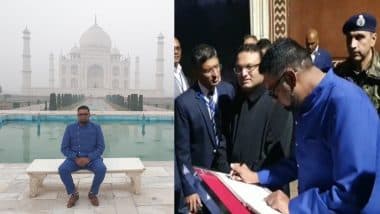 (Photo Credit: Twitter)
Agra, January 11: Dr. Mohammad Irfan Ali, President of the Republic of Guyana, visited the Taj Mahal on Wednesday evening. The President's convoy reached the Taj Mahal at 5:20 pm where he was received by Superintending Archaeologist Dr. Rajkumar Patel.
Dr. Mohammad was mesmerized after seeing the World Heritage Site. He also took photographs on the Diana Bench and also saw the tombs of Shah Jahan and Mumtaz inside the Taj.
Dr. Patel said that the President of Guyana had written his views regarding the Taj Mahal in the visitor's book. His convoy left for the destination at 6.25 pm. The President of Guyana is in India to participate in the Pravasi Bharatiya Sammelan organized in Indore, Madhya Pradesh.
(This is an unedited and auto-generated story from a syndicated news feed, likely not the latest staff changes or edits)
the president of the republic of guyana dr mohammed visited the taj mahalr