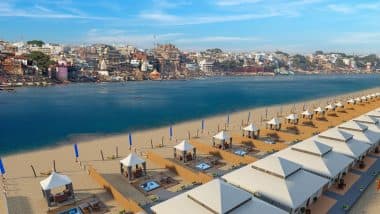 Varanasi Tent City (Photo Credit: Twitter)
Ayodhya Tent City: Ayodhya, January 18: Devotees coming to Ayodhya will soon be able to stay in the 'tent city' built on the banks of the Saryu river. The local administration has proposed to develop it. Ayodhya's tourism officer R.P. Yadav said on Wednesday that on the lines of Prayagraj and Varanasi, now there is a proposal to develop 'tent city' in Ayodhya as well. Varanasi Tent City: Five star tent city ready in Varanasi, PM Modi inaugurated
It is proposed to establish this town on the land of tourism department at Naya Ghat. In this, permanent residential facilities will be provided to the tourists. Yadav said that apart from this, facilities will also be given to the devotees doing Kalpavas in Ayodhya and living in the temples of the Math in the tent city. Yadav said that the tourism department would provide them land and the investors would provide them with tents.
He informed that a group of Indian-origin Canadian doctors who visited Ayodhya have shown interest in investing in the development of the tent city. Appreciating the initiative, Acharya Satyendra Das, chief priest of Shri Ram Janmabhoomi Tirtha Kshetra, said, "People who are deprived of a place after coming from outside will no longer have to wander anywhere. They will soon be able to live in the tent city."
Das also praised Chief Minister Yogi Adityanath and said, "Chief Minister Yogi Adityanath thinks a lot about Ayodhya. This proposal to make a tent city in Ayodhya is a very beautiful initiative. We welcome it. At present, tent cities have been made for devotees in Sangam city Prayagraj and Varanasi.
(This is an unedited and auto-generated story from a syndicated news feed, likely not the latest staff changes or edits)
tent city will be built on the banks of saryu the administration has proposed