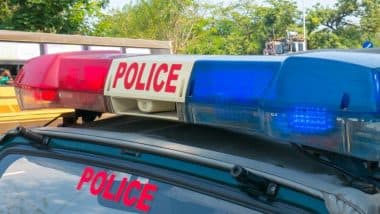 Police I File Photo (Photo Credits: Facebook)
Bengaluru, January 18: A Hindu woman, a mother of four children, has allegedly eloped with a Muslim man in Karnataka's Gadag district, her husband has urged the state government to take action in the matter. Gadag resident Prakash Gujarati, who works as a goldsmith, has alleged that his wife has left him and married Maqbool Bayabadki, a resident of Savanur. Tripura Horror: Man kills three-year-old son in Agartala, buries body near house; Wife beaten up for intervening
Describing the incident as a case of 'love jihad', Prakash said that when he tried to contact his wife, Maqbool's family did not allow him and even threatened him. He was told that his wife had converted to Islam and had taken one of her daughters with her.
Meanwhile, Shri Ram Sena has warned that the woman should be reunited with her husband and children, else a massive agitation will be launched.
Maqbool was introduced to Prakash's family in Goa. Since Maqbool also belonged to Karnataka, Prakash developed a close relationship with him and Maqbool took a rented house near Prakash's house.
After some time, Maqbool became friends with Prakash's wife and he took her to Ajmer Dargah. He converted her to Islam and married her.
Prakash said that he went to Ajmer and begged Maqbool not to break his family. He agreed and his wife came back to him.
He came back to Gadag and started living with his family. But one day his wife suddenly disappeared and was seen again with Maqbool.
Prakash claimed that she had also approached the police and women's organisations, but no one helped her.
He also said that after his wife eloped again, he suffered a heart attack and his two sons also fell ill.
mother of four children eloped with muslim youth family told love jihad shri ram sena warned