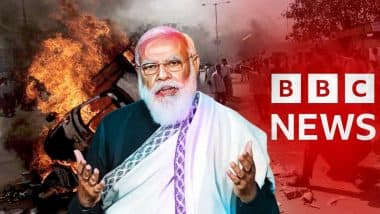 (Photo Credit: Twitter)
BBC Documentary on PM Modi, 20 January: The BBC on Friday defended its controversial series on Prime Minister Narendra Modi, saying it was a well-researched documentary that tried to dispassionately highlight important issues. Indians Trust in Modi Govt: Increased trust of Indian people in Modi government and business, increased trust in media and NGO, read full report
The comments from the media establishment came a day after the government termed the documentary as "propaganda material" lacking objectivity.
A BBC spokesperson said in a statement: "The documentary was thoroughly researched to the highest editorial standards." This statement of BBC came a day after British Prime Minister Rishi Sunak came to the rescue of Prime Minister Modi. Sunak came to Modi's defense after a BBC documentary claimed that the British government was aware of the Indian leader's alleged role in the 2002 Gujarat riots.
The British prime minister said he did not agree with the characterization of Prime Minister Modi by Imran Hussain, a Pakistani-origin MP from the opposition Labor Party. Sunak made the comments after Hussain asked whether the British prime minister agreed with claims made on a BBC program that some diplomats in the UK Foreign Office believed "Modi was directly responsible".
The UK Prime Minister replied, "The UK Government's position on this is clear and long-standing, and it has not changed." "Undoubtedly, we do not tolerate harassment anywhere, but I do not agree with the characterization done by the honorable gentleman (Hussain)," he said.
The British Broadcasting Corporation (BBC) said it consulted a wide range of people when making the series. The spokesperson said, "Various opinion makers, witnesses and experts were contacted, and we have presented a range of views – including responses from people in the BJP. We have asked the Government of India to respond to the issues raised in the series." Asked for – it refused to answer.
The BBC said it is committed to highlighting important issues around the world and the documentary series "examines the tensions between India's Hindu majority and Muslim minority and the politics of India's Prime Minister Narendra Modi in relation to those tensions". does".
The spokesperson said it has been a notable source of reporting and interest in India and around the world in recent years. The Government of India has condemned the BBC Panorama program and termed it as propaganda material with dubious agenda. The program has not been screened in India.
Responding to questions from reporters in New Delhi on Thursday on the BBC documentary, Ministry of External Affairs spokesperson Arindam Bagchi said it was part of a disinformation campaign to push a "false narrative".
Bagchi said, "It forces us to think about the purpose of this exercise and the agenda behind it." He said that clearly he does not want to give importance to such efforts. The BBC has produced a two-part series titled 'India: The Modi Question'. The series is about the 2002 riots in Gujarat, when Narendra Modi was the chief minister of the state.
Bagchi said, "Let me make this point clear… We believe this is a part of disinformation, an attempt to push a particular 'false narrative'. Lack of objectivity, prejudice and colonial mindset is clearly visible in this.
Meanwhile, several members of the Indian community in Britain have sent complaints to the BBC over the documentary's portrayal of the Indian leader. Indian-origin Lord Rami Ranger, affiliated with the House of Lords, tweeted, "BBC News you have caused great harm to more than a billion Indians. It insults the democratically elected Prime Minister, the Indian Police and the Indian Judiciary. We condemn the riots and loss of lives and also condemn your biased reporting."
(This is an unedited and auto-generated story from a syndicated news feed, likely not the latest staff changes or edits)
bbc defends documentary made on modi says a lot of researchr