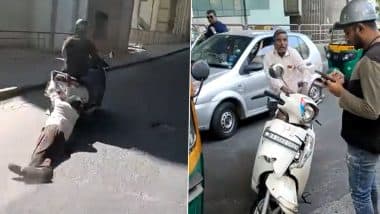 Scooty rider dragged the old man (Photo Credits Twitter)
Bengaluru, January 17: A two-wheeler rider dragged a 71-year-old man on the road for about a kilometer on Tuesday on Magadi Road in Bengaluru city. The victim has been identified as Muthappa and has been admitted to the hospital. According to the report, Sahil, a resident of Nayandahalli, Bangalore hit the Baleno car on Magadi Road. After which the car driver Muthappa, a native of Bijapur district, stopped him and tried to talk to him. But Sahil sped away in his vehicle, during which Muthappa managed to climb onto the back of his scooter.
When Sahil accelerated the speed of the scooter, he slipped and dragged Muthappa on the road for about a kilometer. Another car and auto rickshaw somehow stopped Sahil. During this, the crowd gathered on the spot thrashed Sahil and handed him over to the police. The video of this incident is becoming increasingly viral on social media. Police said 25-year-old Sahil, a salesman by profession, was talking on his phone at the time of the incident. Also read: Elderly Man Dragged By Scooty: Shocking incident in Bengaluru, Scooty rider dragged the elderly for one KM on the road (Disturbing Video)
Video:
Breaking news- Senior Person dragged for one kilometer by a two wheeler in Magadi Road.#Bengaluru #bengalururoad #RoadAccident pic.twitter.com/vZQBCh3xt9

— Mahendra Ballenhalli (@maheshivaramu) January 17, 2023
Significantly, this incident happened a few days after the death of a 20-year-old woman, Anjali Singh. On January 1, in the early hours of the morning, a woman was dragged by a car for about 12 km on the outskirts of Delhi, in which she died a painful death.
bengaluru shocker elderly man dragged by two wheeler for one km watch video