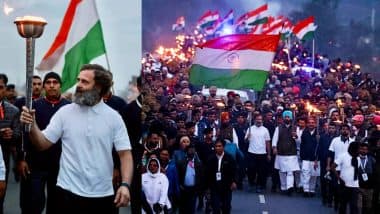 Jammu, January 19: Rahul Gandhi reached Jammu and Kashmir on Thursday evening in the last leg of Congress' Bharat Jodo Yatra. He will conclude the Bharat Jodo Yatra on January 30 at the historic Lal Chowk in Srinagar city. Marching from Punjab to the Lakhanpur area of ​​Kathua, Gandhi said: My forefathers belonged to this land, I feel that I am returning home. I am going back to my roots, I know the suffering of the people of Jammu and Kashmir. I am coming to you with bowed head. Ram Setu: Subramanian Swamy's question, what kind of Hindu is Modi who hesitates to declare Ram Setu as a national heritage?
He said that the media uses topics like Bollywood stars Aishwarya Rai and Akshay Kumar to divert the attention of the people. BJP and RSS have spread hatred, I thought earlier it was very deep, but it is not and is mainly seen on television. I have come to Kashmir on foot from Kanyakumari, the policies of BJP and RSS have given rise to large scale unemployment. The government is big pocket-cheater, it diverts your attention and then loots you.
Today, it is a great pleasure to reach Jammu and Kashmir as I am going back to my home, where my forefathers have their roots.

And, I am learning and understanding myself, every state, my country. pic.twitter.com/Q0RJaw005r

— Rahul Gandhi (@RahulGandhi) January 19, 2023
Gandhi listed hatred, violence, unemployment and inflation as the main issues facing the country. He accused the media of not highlighting him. Former Chief Minister Farooq Abdullah, Muzaffar Shah, Tariq Hameed Karra, Vikar Rasool, G.A. Mir, Lal Singh and Shiv Sena MP Sanjay Raut attended.
After night rest, Rahul will lead the yatra from Hatli More in Kathua tomorrow morning and will take night rest at Chadwal. January 21 will be rest day. Senior Congress leader Mir said- The rally will reach Jammu on January 23 and organize a rally in the city. The yatra will remain in the Jammu region for more than a week. The yatra will enter the valley on January 27 through the Jawahar tunnel on the Srinagar-Jammu National Highway. From January 27, the yatra will travel to different parts en route to Srinagar. A mega rally will be held at the Sher-e-Kashmir Cricket Stadium in Srinagar on January 30 to mark the conclusion of the Yatra that started from Kanyakumari in Tamil Nadu on September 7.
Jammu and Kashmir police chief Dilbag Singh said that all the security requirements of the yatra will be taken care of and security will be ensured in every district.
bharat jodo yatra reached jammu and kashmir rahul gandhi said feeling like returning home