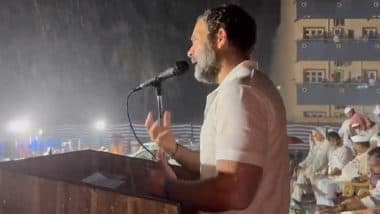 Rahul Gandhi (Photo Credits: Instagram)
Fatehgarh Sahib (Punjab): Congress leader Rahul Gandhi, who is leading the Bharat Jodo Yatra, on Wednesday said that the yatra is against the politics of fear and hatred propagated by the BJP and the RSS, and religion, caste and religion. And against their attempt to divide India by drawing language lines. He said, "That is not our history, our history is of love, mutual brotherhood and unity among people."
Addressing a public meeting before the start of the Punjab leg of the yatra, Rahul said he visited the martyrdom site of two young sons of Guru Gobind Singh who had decided to lay down their lives in the fight against injustice and intolerance . Bihar Education Minister On Ramcharitmanas: 'Ramcharitmanas hate book', Bihar's education minister's controversial statement
He thanked the people and party workers for participating in the yatra so early in the morning despite the bitter cold.
Pointing out a clear ideological difference between the BJP and the Congress, he said, "They (BJP) do politics of hatred, violence and fear, we do politics of love, unity and brotherhood."
Rahul said that in his journey of about 3,000 kms so far, he has met people from different walks of life, including farmers, traders, small shopkeepers, labourers, unemployed youth and students. The purpose of this journey is to listen to people instead of speaking their words.
Former Aam Aadmi Party MP from Patiala Dharamvir Gandhi and film actress Jonita Dhoda also participated in the yatra. Rahul later also interacted with a panel of senior ex-servicemen and Punjabi historians, economists, sociologists and agricultural experts. This was the 117th day of the Bharat Jodo Yatra which began on September 7, 2022 in Kanyakumari. This yatra will end on January 30 with the hoisting of the tricolor in Srinagar.
bharat jodo yatra congress leader rahul gandhi targeted bjp and rss said this journey is against the politics of fear and hatred