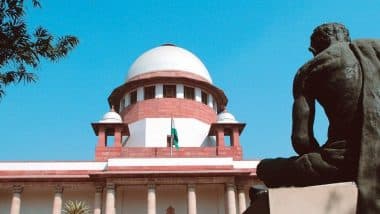 Supreme Court (Photo Credit: Twitter)
New Delhi: The Supreme Court on Friday refused to entertain petitions challenging the Bihar government's decision to conduct caste-based census. A bench of Justices BR Gavai and Vikram Nath noted that the court was not inclined to consider the submissions made by the counsel representing the petitioners and orally said, "So, it is in a publicity interest". Have a petition?
After a brief hearing in the matter, the top court asked the lawyer to approach the high court and dismissed all the petitions. The top court said in its order, the petitioner's advocate has sought permission to withdraw these writ petitions with liberty to approach the High Court of Judicature. are allowed. Therefore, these writ petitions are dismissed as withdrawn with liberty as prayed. Haryana: Rape-murder convict Ram Rahim will come out of jail again, gets parole for 40 days after 56 days
The petitions sought a direction to the top court to quash the Bihar government's notification to conduct caste-based census. On January 11, the apex court agreed to consider a petition seeking to quash the Bihar government's decision to conduct a caste survey in the state.
The petition has sought quashing of the notification issued by the Deputy Secretary, Government of Bihar regarding caste survey in the state and restraining the officials concerned from carrying out the exercise. It has been said that there is no provision in the constitution regarding caste configuration. The petition, filed by Akhilesh Kumar, argued that the move was against the basic structure of the Constitution, apart from being illegal, arbitrary, irrational, discriminatory and unconstitutional.
He argued that as per Section 3 of the Census Act, 1948, the Center has the right to conduct census in the whole or any part of the territory of India. It further states that the scheme of the Act establishes that caste census is not contemplated in the law and the state government has no authority in law to conduct caste census.
The petition claimed that the notification dated June 6, 2022 violates Article 14 of the Constitution, which provides for equality before law and equal protection of law. The petition claimed that in the absence of a law on the subject, the state government cannot conduct caste census through executive orders. The impugned notification for caste census in the state of Bihar lacks statutory flavor and constitutional sanction.
bihar caste based census supreme court refuses to entertain petitions against caste based census in bihar