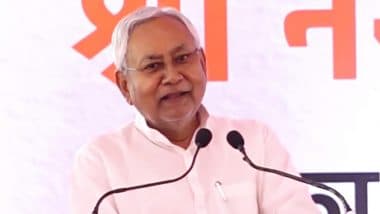 Nitish Kumar (Photo: Credits ANI)
Madhubani: Bihar Chief Minister Nitish Kumar on Wednesday gifted 'Mithila Haat' located at Jhanjharpur in Madhubani to the people of Mithilanchal. Nitish reached Madhubani during his Samadhan Yatra and inaugurated and inspected the Mithila Haat built on the lines of Delhi Haat.
There are a total of 50 shops in Mithila Haat, built on the side of National Highway 57. Apart from this, cafeteria facility is also available. About 13 crore rupees have been spent in making Mithila Haat spread over 26 acres. Many leaders including Bihar's Water Resources and Information and Public Relations Minister Sanjay Kumar Jha were also present on this occasion. New Joshimath: Like Tehri, now considering making New Joshimath, Uttarakhand government selected these 3 places
On this occasion, the Chief Minister said that after the construction of Mithila Haat, tourism will get a boost here. He said that people will come here to see the art and culture. He said that a pond has also been renovated.
Here, Jha, describing today as a historic day for Mithilanchal, said that with the aim of introducing Mithila's art-culture, civilization and food to the tourists of the country and the world, Mithila was organized in Araria Sangram, Jhanjharpur (Madhubani). The market has been built.
He said that its cultural heritage is very rich. By becoming Mithila Hot, the people of the surrounding areas will get employment. During this, the Chief Minister also saw several development schemes and reviewed them with the officials. The Chief Minister also gave several instructions to the officers.
bihar cm nitish kumar inaugurated mithila haat in madhubani people will be exposed to art and culture of mithilanchal