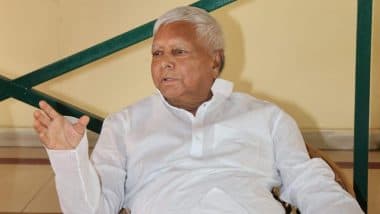 Lalu Yadav (Photo Credits: Facebook)
New Delhi: The difficulties of former Union Minister and former Bihar CM Lalu Prasad Yadav seem to be increasing. The CBI has got approval from the Ministry of Home Affairs to prosecute Lalu in the case related to job in exchange for land. In its chargesheet in October last year, the CBI had named 16 accused, including Lalu Prasad, his wife, daughter, the then GM of Central Railway, the then Chief Personnel Officer (CPO), private individuals and some candidates in the case. The CBI had said that during investigation it was found that the accused, in connivance with the then General Manager of Central Railway and CPO of Central Railway, had appointed persons in their own or their close relatives' names in lieu of land.
CBI has alleged in the charge sheet, the candidates have used false TCs and submitted false certified documents to the Ministry of Railways. The CBI has found during the investigation that Lalu Prasad's wife Rabri Devi and daughter Hema Yadav were gifted land in connection with the land for job scam by job seekers who were later recruited in the Railways. Budget 2023: The general budget will be presented on February 1, know interesting facts and history related to the budget session
Railway employee Haridayanand Chowdhary and Lalu Prasad's then OSD Bhola Yadav were earlier arrested by the CBI. Bhola was Lalu's OSD between 2004 and 2009. The officer said that during the period from 2004 to 2009, Lalu Prasad had taken land in the name of his family members and received pecuniary benefits from the candidates in exchange for jobs in Group D posts in various zones of the Railways.
Several people living in Patna, themselves or through their family members, had sold their land in Patna in favor of Prasad's family members and a private company controlled by his family was also involved in the transfer of such immovable properties. Advertisement or any public notice was not issued for recruitment in Railways. Still those who were residents of Patna were appointed as substitutes in various Zonal Railways located at Mumbai, Jabalpur, Kolkata, Jaipur and Hajipur.
The CBI says that in this case 1,05,292 feet of land in Patna was acquired by the family members of Lalu Prasad Yadav by paying cash to the vendors.
bihar lalu yadavs troubles increased cbi got approval to prosecute rjd chief in land case in lieu of job