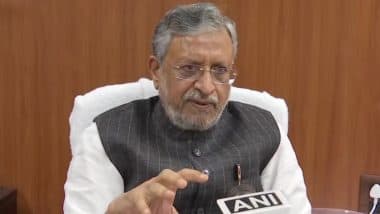 BJP MP Sushil Kumar Modi (Photo Credits Twitter)
Patna, January 16: Former Deputy Chief Minister of Bihar and Rajya Sabha member Sushil Kumar Modi said that if the RJD has the courage to defend Minister Chandrashekhar who condemned Shri Ramcharit Manas, then he should speak against the controversial verses of the Quran and the practice of polygamy, triple talaq, nikah halala prevalent in the Muslim society. Comment on issues like Hijab and justifying the marriage of 15-year-old Rajaswala minor daughters. On Monday, Modi asked every question that the RJD should explain why it is against the uniform civil code for all Indian citizens, while the constitution composed by Baba Saheb has given the opinion of implementing this code?
He said that the Supreme Court is in favor of keeping the legal age of marriage equal for girls of all religions, but why is Lalu Prasad's party standing by the conservative opinion of the Muslim Personal Law Board in the matter of marriage of minor Muslim girls? Also read: Bihar Politics: Sushil Modi opened Nitish Kumar's big secret, told why JDU leader left BJP
He said that why did the RJD keep silence on the Supreme Court's decision declaring instant triple talaq illegal? Modi said that RJD supports triple talaq for vote bank and opposes the right to gender equality of Muslim women with the same intention.
He said that the RJD does not succumb to the sentiments of the Muslim society and oppose even their medieval evils, while it defends Jagadanand and Chandrashekhar who spew venom against the Ram temple and Hindu scriptures.
Modi said when former BJP spokesperson Nupur Sharma's remarks hurt the sentiments of a community, the party had taken immediate action against her. Now Tejashwi Yadav should tell why no action has been taken against the cynic Chandrashekhar? Does the sentiments of majority Hindus have no value for RJD?
bihar sushil modi challenged rjd says oppose triple talaq polygamy hijab