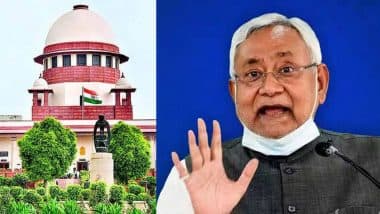 (Photo Credit: Twitter)
Supreme Court on Bihar Caste Census: Caste census has started in Bihar from 7th January. The Hindu army has filed a petition in the Supreme Court to ban this. Now the matter will be heard on January 20. It was said in the petition that the notification of the caste census is against the basic spirit and there is a violation of the basic structure, so a request has been made to cancel the notification itself. Bihar Caste Census: Know how caste census is being done in Bihar, how much will it cost?
It was said in the petition whether the Constitution of India gives the State Government the right to conduct a census on the basis of caste? Is the notification issued by the Deputy Secretary of Bihar Government on June 6 against the Census Act 1948? Does our constitution allow the state to issue notification for caste based census in the absence of any appropriate or specific law? Is the state government's decision to conduct caste census a uniform decision taken with the consent of all political parties?
The petition said that the notification and decision of the State of Bihar are illegal, arbitrary, irrational, unconstitutional and without authority of law. The process of caste-based census has started in Bihar from January 7. The responsibility of conducting this survey in the state has been entrusted to the General Administration Department (GAD) of the government. In this survey, there will be questions related to the names of the family members, their caste, place of birth and the number of family members. Along with this, there will also be questions related to their economic status and annual income. The state government has set a target to complete the caste census process by May 2023.
important hearing in supreme court tomorrow on caste census in bihar