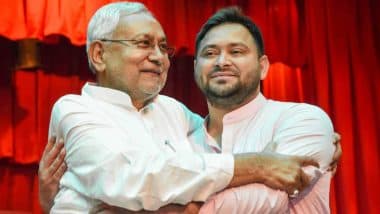 CM Nitish Kumar and Deputy CM Tejashwi Yadav (Photo Credit: Twitter)
Patna, January 11: Bihar Deputy Chief Minister Tejashwi Yadav said on Wednesday that he was not aware of police action against farmers in Buxar district. He said, "I have no information about the incident. I have just come to know from the media.. I have asked the officials to give me the technical details of the case." Bihar Caste Census: Challenge to caste census in Bihar, hearing will be held in High Court on January 20
Police in Buxar allegedly attacked several farmers and their families, including women and children, on the intervening night of Tuesday and Wednesday. The farmers of Banarpur village of Chausa block were protesting demanding compensation for their land acquired by the Thermal Power Company.
Tejashwi Yadav's statement is similar to the recent statement of Chief Minister Nitish Kumar, in which he said that he was not aware of the police lathicharge on BSSC students in Patna.
After the attack in Buxar, angry farmers created a furore, set fire to more than half a dozen government and private vehicles.
Meanwhile, the Buxar district administration has arrested 6 people for arson. A large number of policemen have also been deployed in the village and thermal power unit to prevent any untoward incident.
bihar tejzawi yadav unaware of lathi charge said i do not know about police action on farmers in buxar