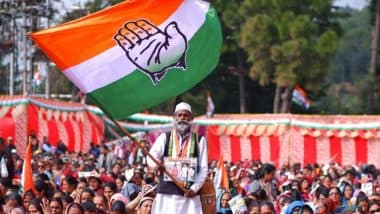 Congress (Photo Credits Facebook)
Patna, January 18: After getting the leadership of Bihar Congress in the hands of Rajya Sabha MP Akhilesh Prasad Singh, the discussion of changing the leader of the Congress Legislature Party is in full swing. Although Congress leaders are not saying much about this, but it is being said that Congress can do this to rectify the social equation. Ajit Sharma is the leader of the Legislature Party in the Bihar Legislative Assembly and after that Akhilesh Prasad Singh was made the state president of the party. Both of them come from Bhumihar caste. Even in the Legislative Council, the leaders of the Congress belong to the upper caste. In such a situation, it is being said that Congress can make some changes to bring about social equation.
Meanwhile, the Congress is also eyeing the cabinet expansion. In the expansion of the cabinet, it is believed that two people of Congress may get a chance this time. A Congress leader, on the condition of not publishing the name, says that the two ministers from the Congress who are currently in the cabinet come from Dalit and Muslim communities. In such a situation, this time there is every possibility of an upper caste getting a place in the cabinet. He said that if Ajit Sharma is removed from the post of Legislature Party leader, then he can join the race for the post of minister. Also read: Court tells CBI not to proceed with Lokpal order against MCD
Here, if sources are to be believed, the Chief Minister's first choice for inclusion in the cabinet is former State President Madan Mohan Jha. In such a situation, the Congress would not want any new controversy by removing Ajit Sharma from the Legislature Party. Congress spokesperson Asit Nath Tiwari says that whatever is there at the moment is just speculation. So far, neither the central leadership nor the state leadership has discussed about the change. However, he definitely said that any party takes care of its strength. Congress leaders are also busy in strengthening the organization.
bihar to rectify the social equation in bihar congress may change the leader of the legislature party