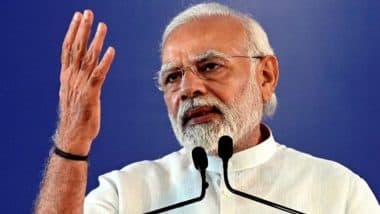 PM Modi (Photo Credits PTI)
Lucknow, 22 January: There will be a one-day meeting of BJP's state executive in Lucknow on Sunday to chalk out a strategy to implement the plans of the central leadership for the 2024 Lok Sabha elections. Uttar Pradesh Chief Minister Yogi Adityanath will be the chief guest in the first session of the state executive meeting. Over 700 delegates from the state and the party's central body have been invited to the meeting.
Apart from state office bearers, central office bearers of BJP and central ministers belonging to Uttar Pradesh, district presidents and heads of various wings of the party have also been invited. According to the party spokesperson, a political resolution will be discussed, in which the party will appreciate the achievements of the Prime Minister Narendra Modi-led government at the Center and the Yogi Adityanath government in Uttar Pradesh. The party will also congratulate the leadership of Modi and Yogi for the party's victory in the Lok Sabha and assembly by-elections in Uttar Pradesh in the last few months. Also read: Judge Shot Himself: Judge accidentally shot himself in Mirzapur court premises, hospitalized
The strategy for victory in the upcoming urban local body elections and 2024 Lok Sabha elections will be discussed. The challenge before the party is to win back the Lok Sabha seats it lost in 2019, said an office-bearer. The progress of the ongoing Lok Sabha migration scheme for such constituencies is likely to be discussed in the meeting. Another party functionary said, as discussed in the national executive meeting, the party's shakhas have to run mass contact programs in the border areas. Some instructions can be given in this regard in the meeting.
bjp mission 2024 bjp gearing up for the upcoming lok sabha elections bjp state executive meeting today