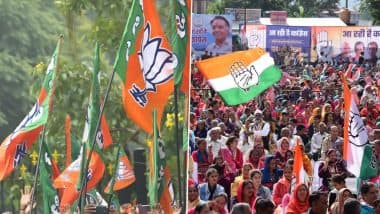 Congress and BJP (Photo Credits: File Facebook)
New Delhi, January 17: Sudha Yadav, a member of the BJP Parliamentary Board, retorted on the questions raised by Rahul Gandhi regarding unemployment and rising inequality in the country, saying that Rahul Gandhi keeps on raising the same topic again and again but he forgets the figures. Money is going directly into the accounts of 22 crore people. Sudha Yadav said that even when zero balance accounts were being opened, she had opposed it, but during the pandemic, it made it easier to help people. He claimed that the Government of India is actually working for the welfare of the poor.
Giving information about the statement presented on the second day of the BJP National Executive meeting regarding the welfare of the poor, BJP Parliamentary Board member Sudha Yadav said that the leader of the opposition in the Bihar Legislative Council, Samrat Chaudhary, in the meeting of the executive committee, spoke about the welfare of the poor being run by the government. Presented a statement related to 'Garib Kalyan' regarding various welfare schemes and achievements. Also read: BJP Working Committee has decided to extend Nadda's tenure till June 2024: Shah
Referring to the various schemes being run by the Modi government and the BJP and NDA state governments, Yadav said that when Narendra Modi took oath as the Prime Minister eight years ago, he had said that his government would be dedicated to the oppressed, the deprived and the poor. . After eight years, the BJP government has done the work of taking forward the exploited, the deprived and the poor.
bjp said on rahul gandhis criticism rahul who repeatedly raises the same topic forgets the figures