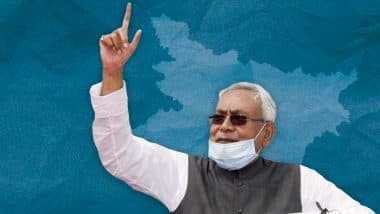 Bihar CM Nitish Kumar (Photo Credits: Twitter)
Bihar, January 20: Bihar Chief Minister Nitish Kumar, while demanding a separate budget for Railways as before, said that Railways is very important. Everyone is interested in the coming and going of the railway budget. Budget 2023-24: General budget will be presented on February 1, Modi government changed the tradition
He said that if the population has increased, then it is necessary to take the railway further, youth must be restored. He said, we want that there should be a separate budget for the Railways as before. Don't know what happened to these people that railways were merged with the general budget.
Nitish Kumar, who reached his home district on Friday during his Samadhan Yatra, said that he has had an old attachment to this area.
On the question of demand for special status to Bihar, the Chief Minister said that we have been demanding special status for Bihar for a long time. We have protested many times regarding this. In the year 2011, 2012 and 2013 many programs were organized regarding this.
He said that we have been demanding this since the beginning, but the demand to give special status to Bihar has not been accepted yet. We are working from our side for the development of Bihar.
On the instructions of the Supreme Court on caste-based enumeration, the Chief Minister said that now the Supreme Court has given its decision in its favor, whereas many people were thinking that the decision would be opposite.
He said that caste-based enumeration is in everyone's interest. It is the job of the central government to conduct the census, we are getting the caste-based census done. We are doing this for the information of each and every thing in our state.
On the question of giving jobs by setting up camps by the central government, the Chief Minister said that when Atal Bihari Vajpayee was the railway minister in the government, we had given jobs to a large number of youths in the railways. We had developed the railways a lot. Youth must get jobs in railways.
budget 2023 demand of cm nitish kumar modi government should present separate railway budget in parliament