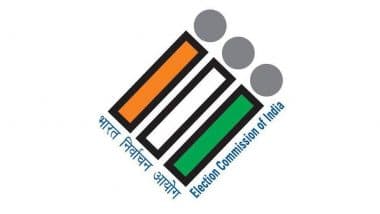 Election commission (Photo Credit: Twitter)
New Delhi, January 18: The Election Commission on Wednesday announced that by-elections will be held on February 27 for the Lakshadweep Lok Sabha and six assembly seats in five states. Assembly elections will also be held in Meghalaya and Nagaland on the same day. Assembly Election 2023: Voting will be held in Tripura on February 16, Meghalaya-Nagaland on February 27, results will come on March 2
According to the Election Commission, the counting of votes will take place on March 2. The results of Tripura, Meghalaya and Nagaland will also come on the same day. The Lakshadweep Lok Sabha seat fell vacant following the disqualification of its MP, Mohammad Faizal, recently convicted in an attempt to murder case. A court in the Union Territory had sentenced Faizal in the case of attempt to murder. Thereafter, he was disqualified from the membership of the Lok Sabha under the provisions of Article 102 (1) (e) of the Constitution of India and Section 8 of the Representation of the People Act, 1951.
Apart from Kasba Peth and Chinchwad assembly seats in Maharashtra, bypolls will be held for one assembly seat each in Arunachal Pradesh, Jharkhand, West Bengal and Tamil Nadu. Arunachal Pradesh's Lumla seat fell vacant due to the death of sitting MLA Jambe Tashi, while Jharkhand's Ramgarh seat fell vacant following the disqualification of Mamta Devi.
The Erode (East) seat in Tamil Nadu fell vacant after the death of sitting MLA E Thirumahan Erao, while the Sagardighi assembly seat in West Bengal also fell vacant due to the death of sitting MLA Subrata Saha.
The Lok Sabha Secretariat has not informed the Commission about the death of Congress MP from Jalandhar, Santokh Singh. Sources later said that's why the by-election was not announced on Wednesday for that parliamentary seat. Vacancies are notified in the Lok Sabha, Rajya Sabha, State Assemblies and Legislative Councils, after which the Election Commission decides to hold bye-elections.
Notification for all the by-elections will be issued on January 31.
(This is an unedited and auto-generated story from a syndicated news feed, likely not the latest staff changes or edits)
bye elections for lakshadweep lok sabha and six assembly seats on february 27r