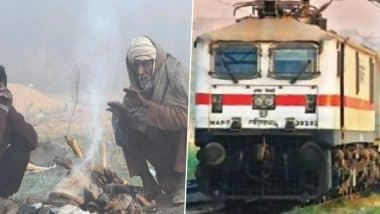 Indian Railways (Photo Credits: PTI)
New Delhi, January 9: Indian Railways has adopted a new way of providing better facilities to its passengers. Under this, passengers on general tickets will be able to travel in sleeper class during the winter season. In view of the harsh winter across the country, Indian Railways has decided that even passengers taking general tickets will now be able to travel in sleeper coaches. The special thing is that no extra fee will be demanded from the passengers for this. This new decision of the Railways will prove to be very helpful for the poor and especially for the elderly passengers.
The railway administration has decided that the passengers of general tickets should be made to travel in sleeper coaches running empty during the winter season. In view of this, the Railway Board has sought information from all the Divisional Railway Administration about sleeper coaches running with less than 80 percent passengers. So that those sleeper coaches should be converted into general. Also read: Cold Wave: Capital Delhi in the grip of severe cold wave, visibility reduced to 25 meters due to dense fog
Actually, due to winter, most of the passengers are traveling in AC coach instead of sleeper coach. Because of this, AC coaches have also been increased in trains. Since then, in many trains, the number of AC and sleeper class coaches has become almost equal. The condition of winter is that up to 80 percent of the seats in the sleeper coaches are remaining vacant. On the contrary, the number of people traveling by general ticket is increasing. In view of this, Railways is considering that the sleeper will be given the status of general coach in trains with less passengers in the sleeper coach. Under this, now unreserved will be written outside such coaches, but opening of middle berths will not be allowed in these coaches which have been converted into general coaches.
cold wave passengers will travel in sleeper coach on general ticket in winter season