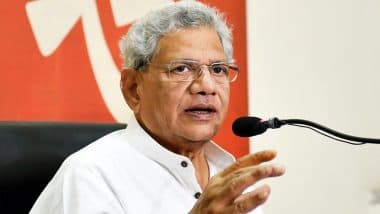 Sitaram Yechury (Photo Credits: PTI)
New Delhi: CPI (M) general secretary Sitaram Yechury on Friday termed Vice President Jagdeep Dhankhar's recent remarks against the Constitution as a 'dangerous sign' for the future. Addressing the inaugural session of the All India Presiding Officers' Conference in Jaipur, Vice President Jagdeep Dhankhar had said that the Supreme Court has set a wrong precedent with its 1973 judgment in the Kesavananda Bharti case.
Sitaram Yechury expressed strong objection to Jagdeep Dhankhar's remarks and said that this is an unprecedented attack on the judiciary. He said that the Indian Constitution has established the Parliament and the Executive, Legislature and Judiciary derive their authority and power from the Constitution itself. COVID-19 Center Scam: ED summons BMC Commissioner Iqbal Chahal, 100 crore scam case
He said that the Constitution is supreme and no government using the autocracy of the majority can weaken the basic structure of our republic. The CPI(M) leader said that the Vice President was questioning the supremacy of the very Constitution under which he assumed office.
Yechury explained that the centrality of the Constitution lies in maintaining India's sovereignty. Yechury said that the sovereignty of the people cannot be substituted at any point in the formula of the constitutional scheme. According to the report, earlier senior Congress leader and former Union Minister P Chidambaram had reacted to this and said that all people who love the Constitution should beware of the dangers ahead.
cpi m general secretary sitaram yechury targeted the vice president said jagdeep dhankhar's remarks against the constitution are a dangerous sign for the future