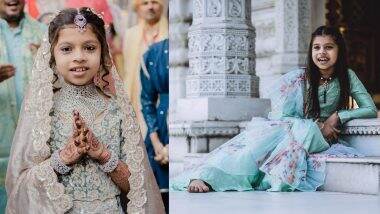 Devanshi Sanghvi (Photo Credit: Twitter)
Surat, 18 January: The nine-year-old daughter of a wealthy Gujarat diamond merchant took initiation as a Jain monk on Wednesday, renouncing material comforts. A close family member gave this information. He told that Devanshi, the elder of the two daughters of Dhanesh and Ami Sanghvi, took initiation in the presence of Jain monk Acharya Vijay Kirtiyashsuri in Surat Vesu area. Hundreds of people were present on this occasion. NCERT Books in Madarsas: Madarsas will be taught from NCERT books like schools, teachers will be given training
Devanshi's father is the owner of 'Sanghvi & Sons', a three-decade-old diamond trading company in Surat. The 'initiation' of a minor girl marks her entry into the ascetic life. The celebrations started last Saturday.
#DevanshiSanghvi, the older of two sisters, participated in 367 diksha events leading to her transition into monkhood, a family friend said during Tuesday's celebration. "She's never watched TV and movies, or been to a restaurant."

Read more: https://t.co/uSPVLKrEdg pic.twitter.com/go4Z6j7emH

— The Times Of India (@timesofindia) January 18, 2023
Family friend Nirav Shah said that Devanshi was spiritually inclined from a very young age and had traveled about 700 kilometers on foot with other sages.
He said that Devanshi knows five.
(This is an unedited and auto-generated story from a syndicated news feed, likely not the latest staff changes or edits)
9 year old daughter of gujarats diamond merchant takes initiation as jain monk