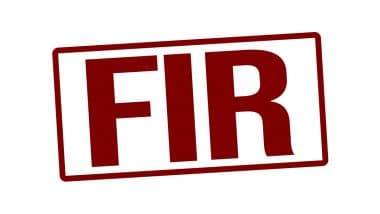 File Photo
Gurugram, January 16: In Haryana's Gurugram, a man has been arrested for threatening to kill an industrialist and demanding extortion. Police said on Monday that the accused has been identified as Sandeep Tyagi alias Jitendra (32). According to the police, he had placed a letter on January 11 at the industrialist's house in Sector 14, demanding extortion of one crore rupees and threatening to kill him if the money was not paid.
He said that Tyagi was a former driver of the industrialist and had conspired to extort money from him to repay his loan.
Police said that in the letter, the accused described himself as a 'wrestler' of the Bawana gang and threatened the industrialist that he and his family members would be killed if he did not pay the money. Police said that an FIR was registered in this regard at Sector 14 police station and Tyagi was arrested late on Sunday night. Also read: Bihar Shocker: Humanity put to shame in Bhagalpur! Husband did not give 500 rupees a week, then two people gang-raped the woman
Assistant Commissioner of Police (Crime) Preetpal Singh Sangwan said, "The accused had planned to demand extortion to repay the loan. After throwing the letter at the door, the accused continued talking to the industrialist and also mentioned the names of many places like Leisure Valley Park, Sukhrali to deliver the money. Eventually our team caught him. He was produced before a city court, which sent him to one-day police custody, the police officer said.
(This is an unedited and auto-generated story from a syndicated news feed, likely not the latest staff changes or edits)
the person who threatened to kill the industrialist and demanded extortion was arrested