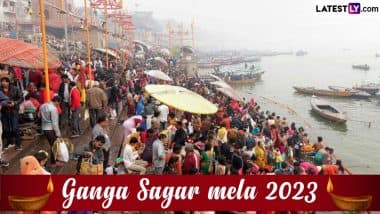 Ganga Sagar Mela 2023 (Photo Credits: File Photo)
Kolkata, January 11: Keeping in view the large number of Hindi speaking pilgrims coming to Gangasagar Mela, the Government of West Bengal has made special arrangements to have all the signposts, banners and hoardings written in Hindi as well, so that Hindi speaking pilgrims are able to navigate here. Do not face any kind of problem during your stay.
A senior officer gave this information. The official said the state government has decided to have signposts, banners, hoardings and direction boards written in Hindi, apart from English and Bengali, to help pilgrims understand the directions and how to reach Sagar Island in South 24 Parganas district. May it help to understand. Also read: Sibal's taunt on Bhagwat's comment, 'Human should remain human'
The official told PTI, "Lakhs of Hindi-speaking pilgrims visit West Bengal during the Gangasagar fair. To ensure that they do not face any inconvenience, we will also put up all banners, hoardings and direction-boards in Hindi on the way to the island.
all signs banners at gangasagar mela in west bengal to be in hindi english and bengalir