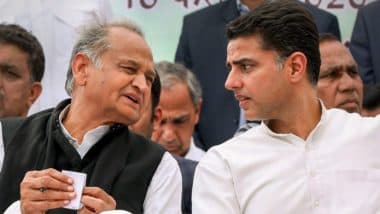 Ashok Gehlot and Sachin Pilot (Photo: PTI)
Jaipur, January 19: Amidst the power tussle between Ashok Gehlot and his arch-rival Sachin Pilot in Rajasthan, a video has emerged in which the chief minister is purportedly saying that a "big corona" has come in the party after the pandemic. It is believed that Gehlot has allegedly compared the pilot to the coronavirus. The video is of Gehlot's pre-budget meeting with employees union representatives on Wednesday.
Responding to a participant during the meeting, Gehlot said without naming anyone, "I have started meeting…Pehle Corona aaya… Hamari party mein bhi bada corona entered ghus gaya." Or despite the Rajya Sabha elections, the government has brought excellent schemes with the help of the employees. Gehlot's comment is being seen as a response to Pilot's repeated attacks on his government. Also read: Gehlot vs Pilot: Rahul Gandhi broke silence on Gehlot-Pilot's rift in Rajasthan, said- both assets for the party
In his daily public meetings in various districts since Monday, Pilot has been targeting the state government on the issues of paper leak, sidelining of party workers and political appointments of retired bureaucrats. Ever since the formation of the Congress government in December 2018, there has been a tussle between Gehlot and Pilot over power.
(This is an unedited and auto-generated story from a syndicated news feed, likely not the latest staff changes or edits)
gehlot compared the pilot with the corona virus the video went viralr