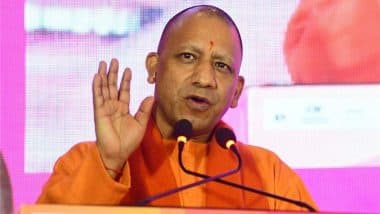 CM Yogi (Photo Credit: Twitter)
Lucknow, January 11: In view of the proposed three-day 'Global Investors Summit' in the second week of February, the Uttar Pradesh government organized roadshows at the divisional headquarters for signing memorandums of understanding (MoUs) with entrepreneurs, businessmen and industrial groups willing to invest. decided to organize. This information was given in an official statement on Wednesday. The 'Global Investors Summit' is to be organized in Uttar Pradesh from February 10 to 12, for which the state government is constantly inviting entrepreneurs to invest.
According to the statement, the departments have stepped up efforts to fulfill the resolve of Chief Minister Yogi Adityanath to take the size of Uttar Pradesh's economy up to one trillion dollars. The road show will be organized by the 'Uttar Pradesh State Industrial Development Authority' (UPCIDA). Also read: UP minister objected to Rahul Gandhi kissing sister Priyanka Gandhi Vadra
After achieving the investment target of more than one lakh crore rupees, the authority has decided to organize road shows at the divisional headquarters on the instructions of Yogi. Industrial Development Minister Nand Gopal Nandi will be the chief guest of each road show. According to the statement, roadshows will be held in Prayagraj division on January 15, Varanasi on January 16, Agra on January 19, Meerut on January 20, Kanpur on January 22, Ayodhya on January 23, Bareilly on January 24 and Jhansi division on February 2.
global investors summit uttar pradesh government to organize road shows at divisional headquartersr