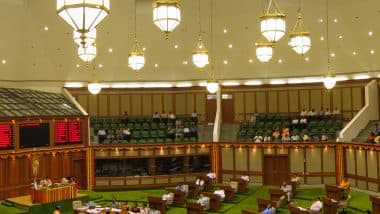 Goa Legislative Assembly (Photo Credits WC)
Goa Assembly Winter Session 2023: The winter session of the Goa Legislative Assembly will run from January 16 to 19. Leader of the Opposition Yuri Alemao called a meeting of all seven opposition legislators to discuss joint floor management strategies to corner the state government in session on 26 December. Before the merger of eight Congress MLAs with the BJP on September 14 under the leadership of former Chief Minister Digambar Kamat, the number of opposition MLAs has come down to seven in the 40-member assembly. Also read: Parliament Winter Session: Foreign Minister S Jaishankar will give a statement on India's foreign policy on the first day of the winter session
The BJP currently has 28 MLAs, and the ruling coalition has 33 MLAs in the assembly, with the support of two MLAs from the Maharashtrawadi Gomantak Party and three independents. Opposition MLAs were demanding to hold the assembly session for a long time, but it was not fulfilled. He told Governor P.S. Sreedharan Pillai to direct the government to extend the duration of the winter session by three weeks and allow private members' business.
Alemao said, the cowardly BJP government is trying to suppress the voice of the opposition and turn the proceedings of the House into silent mode. But we seven MLAs of the opposition are together and will question the government on many issues.
Chief Minister Pramod Sawant should realize that 67 per cent Goans voted against the BJP for its misrule in the last 10 years, he said. The opposition has the mandate of the people of Goa.
Sources said that on the issue of Mhadei diversion, the opposition MLAs have chalked out a strategy to corner the government. Several public meetings are currently underway in the coastal state to protest against Karnataka's approval of the Detailed Project Report for the controversial Kalsa-Banduri dam project.
goa winter session of goa assembly from monday