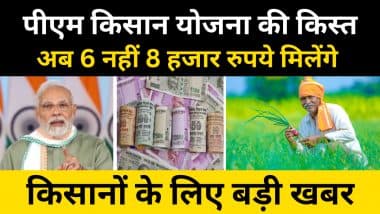 (Photo Credit: Twitter)
PM-Kisan Samman Nidhi: On February 1, India's Finance Minister Nirmala Sitharaman will present the budget (Budget 2023) in the House. The Modi government can give a big gift to the farmers in this budget. Before the 2024 general elections, the amount of PM Kisan Samman Nidhi (PM Kisan) can be increased from Rs 6,000 to Rs 8,000 annually. It can be announced in the budget.
If sources are to be believed, a recommendation has been made by the Ministry of Agriculture to improve this scheme in the budget. Sources told that the government can increase the 3 installments of this scheme to 4 in a year. The Prime Minister's Office (PMO) is also in favor of this scheme. This scheme also has a direct political benefit to the government, because under this scheme the money directly reaches the farmers' account. Read this also- Railway Budget 2023: Modi government's gift! Plan to run 35 new hydrogen and 500 Vande Bharat trains in the next three years
At present, the installment of Rs 2000-2000 is sent directly to the account of the farmers 3 times in a year. On increasing the number of installments to 4, the Samman Nidhi received by the farmers will increase to eight thousand rupees annually. That means the farmers are going to get a direct benefit of Rs 2,000.
Last year, even in the General Budget 2022, there was a strong demand to increase the installment amount of PM Kisan Yojana. But the government insisted on other measures citing the Corona epidemic. In the last one year, the prices of materials used in the agriculture sector have increased. The prices of fertilizers, seeds, fertilizers, pesticides, agricultural machinery have increased. In view of this, the Modi government can take a decision to increase the amount of the installment.
So far, farmers have received 12 installments under PM Kisan Yojana. Its 13th installment can be released on 25 January. More than 11 crore farmers of the country get direct benefits from this scheme of the government.
good news modi government will give 8 thousand rupees instead of 6 thousand in pm kisan samman nidhi yojana