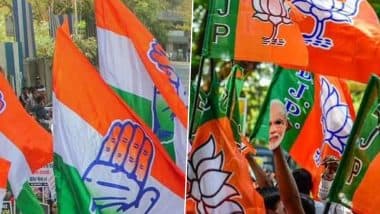 bjp congress (Photo Credits PTI)
New Delhi, January 20: The Congress on Friday alleged that Prime Minister Narendra Modi is still scared of the truth about the 2002 riots coming out and "blocking" a BBC documentary is undemocratic. The opposition Congress said that no matter how much the Modi government tries to "cover" the truth, the world sees the truth. PM Modi is Most Powerful Person: PM Modi is one of the most powerful people in the world: UK MP
Congress General Secretary (Organisation) KC Venugopal said, "After 21 years, Narendra Modi is still scared of the truth of 2002 coming out. Blocking a BBC documentary that directly blames them for the genocide is a cowardly, undemocratic act. This act clearly shows the dictatorial attitude of Modi.
After British Prime Minister Rishi Sunak defended PM Modi, Congress Secretary Ashish Dua asked, "Has Rishi Sunak seen the 'well-researched' BBC documentary on Gujarat." Another Congress spokesperson, Shama Mohammed. Said, "BBC documentary reveals that British government investigation held Narendra Modi 'directly responsible' for 2002 Gujarat riots."
He tweeted, "No matter how hard the BJP government tries to hide the truth, the world sees Modi as he really is." The Indian government has condemned the BBC documentary, calling it a questionable agenda. has been termed as propaganda material. The program has not been screened in India.
Responding to questions from reporters in New Delhi on Thursday on the BBC documentary, Ministry of External Affairs spokesperson Arindam Bagchi said it was part of a disinformation campaign to push a "false narrative". The BBC has produced a two-part series titled 'India: The Modi Question'. The series is about the 2002 riots in Gujarat, when Modi was the chief minister of the state.
(This is an unedited and auto-generated story from a syndicated news feed, likely not the latest staff changes or edits)
pm modi is scared of the truth of 2002 riots coming out congressr