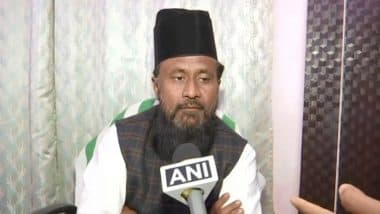 Former JDU MP Ghulam Rasool Baliyavi (Photo Credits ANI)
Ranchi, 20 January: Former JDU MP Gulam Rasool Balyawi has given a provocative speech in Jharkhand regarding the controversial statement of BJP's suspended spokesperson Nupur Sharma a few months ago. He said in a public meeting organized in Hazaribagh that if you put your hand on the honor of my master, then we have gathered in Karbala Maidan, for his respect we will make the cities also Karbala. There will be no concession. A convention on the issue of social reform was organized by an organization called Edara-e-Sharia on Thursday at Karbala Maidan in Hazaribagh. When Ghulam Rasool Baliyavi spoke among the crowd of thousands gathered in this, when he talked about making the cities Karbala, people started raising slogans.
He said that it is surprising that none of the leaders of the parties who claim to be secular have condemned Nupur Sharma's statement. We will not tolerate anything in which our Messenger, our Master is questioned. Also read: Maulvi arrested for making inflammatory speech against Nupur Sharma
Baliyavi said, "The one who does not have the light of Rasool should wish to live. We live with this desire that one day such a thing will come after death. No one will remain. I will remain. My Rasool will remain. No compromise." Will happen."
In the speech, the JDU leader demanded to enact a Safety Act for Muslims like Dalits. Targeting the Jharkhand government, he said that your fraternity did not vote as much as the Muslims have given in a sack. Still our children were gunned down on the streets of Ranchi.
bihar jdu leader gulam rasool balyawi issues karbala threat demands muslim safety act