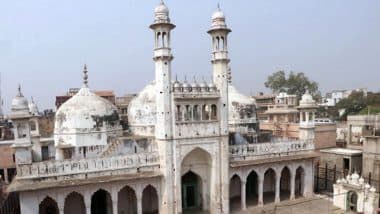 Prayagraj, January 19: The Allahabad High Court on Thursday gave the Archaeological Survey of India (ASI) eight weeks to clarify whether the carbon dating of the object (an alleged shivling) found at the Gyanvapi mosque could be damaged or an estimate of its age. There is also a safe way to apply. Divorce cannot be sought on the ground of wife not being able to bear child: Calcutta High Court
Justice JJ Munir fixed the date of March 20, 2023 for the next hearing in the matter. Earlier, the counsel for ASI had sought more time to file the reply.
The petitioner Lakshmi Devi and three others filed this petition challenging the order of the Varanasi court. The Varanasi court, in its order dated October 14, rejected the demand for carbon dating of the alleged Shivling found during the survey at Gyanvapi mosque on May 16, 2022.
Earlier, on November 21, 2022, ASI's counsel had orally stated before the High Court that ASI is also discussing with its experts what methodology to adopt to determine the age of the alleged Shivling. May go.
In view of this, he had asked for three more months to present the views of the ASI Director General.
The high court had on November 4 sought ASI's reply in the matter and directed the ASI director general to give his views on whether the object could be dated using carbon dating, ground penetrating radar (GPR), excavation and other methods. Is there a possibility of distortion of its nature and other information or is there any other way of safely determining its duration?
(This is an unedited and auto-generated story from a syndicated news feed, likely not the latest staff changes or edits)
court seeks reply from asi in eight weeks on carbon dating of shivlingr