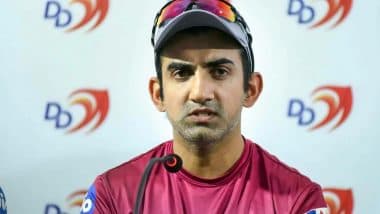 Gautam Gambhir (Photo Credit: Twitter)
New Delhi, January 21: BJP MP and former cricketer Gautam Gambhir has given a big statement on the ongoing confrontation between the Lieutenant Governor and the Chief Minister for several days. Gautam Gambhir tweeted that as much as CM Arvind Kejriwal is fighting to send teachers on a trip to Finland, if he had insisted and fought on other issues of Delhi, the picture of Delhi would have been different. .
BJP MP from East Delhi, Gautam Gambhir wrote in his tweet with the hashtag Delhi Needs Honesty that if Arvind Kejriwal makes efforts to improve Delhi's pollution, Jan Lokpal, provide clean drinking water to people, clean Yamuna and improve hospitals. Had we done so, both the picture and the fate of Delhi would have changed by now. But instead of working on the problems related to the people of Delhi, Kejriwal is fighting with the Lieutenant Governor. Also read: Jammu-Kashmir Blast: Stirred by two consecutive bomb blasts in Narwal, Jammu, police and investigative agencies present on the spot- Video
Arvind Kejriwal is not concerned about the interests of the people of Delhi. Rather, he wants to show himself bigger than LG in any case. Significantly, the conflict between the Delhi government and the LG has been going on for many days regarding the training of Delhi teachers.
had arvind kejriwal paid attention to delhi the picture here would have changed gautam gambhir