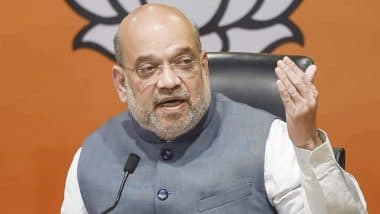 Amit Shah (Photo Credits PTI)
New Delhi: Union Home Minister Amit Shah released the book 'Krantikariyon' on Wednesday. During this, the Home Minister said that if the armed revolution had not taken place, it would have taken many more decades to get freedom. Amit Shah said that the fire of patriotism ignited by the armed revolution helped the freedom movement led by the Congress to succeed, but unfortunately these efforts were not given due recognition in the history books.
Amit Shah said that after independence, those who had the responsibility to evaluate the history of the freedom movement from the Indian point of view and present it to the coming generation. There is a mistake in this. He said that if someone becomes a martyr and till then freedom is not achieved and then evaluates this and writes history, then it is not right. Amit Shah said that the British had gone, but had left the English language. History was written with the same glasses. Due to this there is confusion. Air India Peeing Case: Shankar Mishra, accused of urinating on a woman, will have to spend time behind bars, court refuses to grant bail
Shah said when it comes to history, many people say that it has been distorted. Sometimes the name of the leftists and sometimes of those with English spectacles comes up. Sometimes someone even takes the Congress in the loop. I see give different ways. Who can stop us now? He requested the historians to create a glorious history now.
Shah said that the foundation of all the movements was laid by the 1857 Revolution. The work of bringing this history forward is not only of the government but also of the historians. He said that there was no discussion of voting rights in the Congress movement at that time. It used to be discussed that how much freedom should be taken by negotiating with the British. He told that Veer Savarkar had established Abhinav Bharat for the all-India form of armed revolution. After independence, it was also closed by Veer Savarkar.
Amit Shah told that even one person's effort is patriotism, we have to accept it and also promote it. People like Savarkar have done the work of fighting on the ground. He said that after seeing the Cellular Jail, I wonder how the western countries can talk about human rights? He said, revolutionaries from every part of India were kept in the Cellular Jail and this proves that the violent revolution against the British was not a single attempt.
The Union Home Minister said that historians in the freedom struggle categorized the agitators as extremists versus moderates, but Arvind Bose had given a different formulation at that time. It was Nationalist vs Loyalist. We should see this too. He said in the end that I am saying again that the martyrdom and blood of so many people is involved in liberating this country. We cannot deny him.
had there not been an armed revolution it would have taken several more decades to get independence amit shah