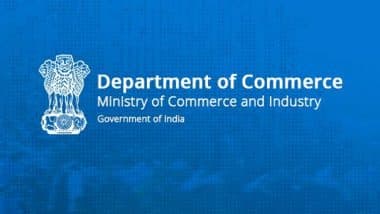 Ministry of Commerce (Photo: Twitter)
Halal Certified Products Guidelines, New Delhi, 18 January: The commerce ministry has issued draft guidelines for export of all meat and its products as 'Halal certified'. Under this, they will be exported only when there is a valid certificate regarding its production, processing and packet. This certificate will be issued by a body recognized by the board of the Quality Council of India. Diseases Alert: 'Tsunami' of dreaded diseases like cancer will come in India, warns cancer specialist
The Directorate General of Foreign Trade (DGFT) has proposed draft guidelines on Halal certification with an aim to streamline the Halal certification process for export of meat and meat products from the country.
The draft guidelines state that certification bodies shall follow the procedure laid down as per the Indian Conformity Assessment Scheme (I-CAS) – Halal. It states that the Agricultural and Processed Food Products Export Development Authority (APEDA) will be designated as the overall monitoring agency for this purpose.
According to the draft guidelines, all meat and meat products will be exported as 'Halal certified' only if it has got a valid certificate. This certificate should be issued by a certification body recognized by the Quality Council of India.
The draft guidelines have been issued for suggestions from the public and the industry. Suggestions and feedback can be given on this till 17 February.
(This is an unedited and auto-generated story from a syndicated news feed, likely not the latest staff changes or edits)
commerce ministry issues draft guidelines for certification of halal meat productsr 2