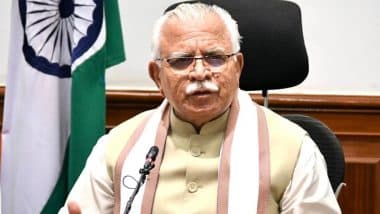 CM Manohar Lal (Photo: Facebook)
Amidst the process of making ration cards in a new automatic way in the state, there is an atmosphere of happiness among the beneficiaries due to the formation of BPL Ration Card. Beneficiaries have thanked the Haryana Government and especially the Chief Minister Mr. Manohar Lal for getting the BPL card without applying and going round the offices. Expressing happiness on getting the ration card, Habib of Palwal said that now his number has come in BPL. Now they can take advantage of ration at a concessional rate under the government's ambitious scheme Public Distribution System.
Another beneficiary Ruman Yadav told that he did not have to visit any office to get the ration card made and this was possible only because of the data given in the family identity card. On the other hand, after the creation of the family ID of the beneficiary Poonam, the name has come in the BPL and now she has become entitled to the ration at a subsidized rate. For which he happily expressed his gratitude to the Haryana Government. Similarly, according to the new criteria of BPL income, ration cards of thousands and lakhs of beneficiaries have been made. ALSO READ: Global debt insecurities posing threat of systemic debt crisis: Sitharaman
It is worth mentioning that worrying about poor families, the state government has increased the income limit of BPL families from Rs 1.20 lakh to Rs 1.80 lakh and Haryana is the first state in the country, which has changed the criteria of BPL income. As a result, the number of BPL families has increased to about 29 lakhs. Every eligible person is getting a ration card sitting at home through the family identity card in the state.
bpl ration card beneficiaries expressed gratitude to the government for making bpl ration card without application