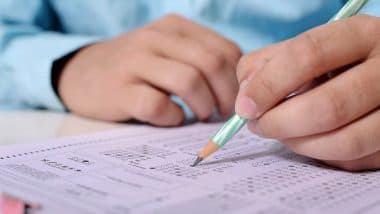 Representational Image (Photo Credits: Pixabay)
New Delhi, Jan 10: Students in the top 20 percentile of each education board will now be eligible to take the JEE-Advanced exam, irrespective of whether they have scored 75 per cent in class 12 or not. Sources in the Union Ministry of Education gave this information.
The decision comes in the backdrop of persistent demands to relax the eligibility criteria for the Joint Entrance Examination (JEE)-Advanced for students seeking admission to Indian Institutes of Technology (IITs) and National Institutes of Technology (NITs). To appear in JEE-Advanced one needs at least 75 per cent marks in aggregate in the 12th class examination conducted by the respective education board.
A source said, "The 20 percentile criteria will help candidates who have scored less than 75 percentile in aggregate in class 12 board exams. Many of the top 20 percentile candidates score 75 percentile or less than 350 marks in various state boards. The ministry has decided that if a student is in the top 20 percentile, he/she is eligible for JEE Advanced.
The online registration for the first edition of JEE-Main will end on January 12. The exam will be conducted from January 24 to 31.
iit nit exam update top 20 percentile students will not need 75 percent marks for admission in iit nit